v2 Summer camp
For young men grades 6th-9th
LAST WEEKS OF JULY
V2 Camp is a Catholic summer camp for young men entering 6th grade through 9th grade in the fall. The camp is 7 days, 6 nights. The camp is full of fun, engaging activities, personal growth, inspiring worship and spiritual development.
Check out this video recap from last summer's camp:


Daily Saint and Bible Studies


Daily Mass & Adoration, Reconciliation

Competitive team building
Obstacle Course, Archery, Capture the Flag, Dodgeball, Water activities
V2 Camp 2022
Virtus et Veritas (V2) Ministries
Week 1 – July 17 to July 23
Week 2 – July 24 to July 30
Location:
Camp Kateri Tekakwitha 
1305 Road 3
McCool Junction, NE 68401
2022 Pricing:
$525
Early bird pricing: January 28 through April 3
$550
Regular pricing: April 4 through
May 1
$575 Late fee pricing: May 2 through May 29
Young men entering 6th-9th grade
Young men entering 10-12th grade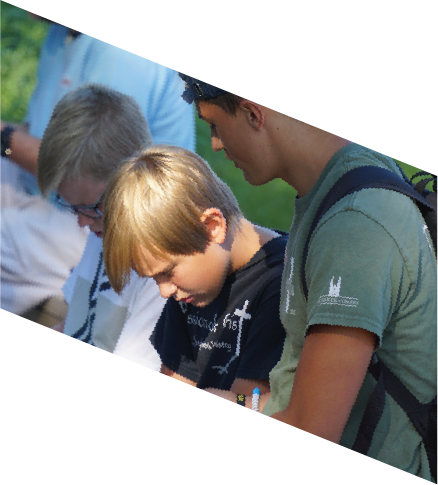 Adult volunteers are needed in several different capacities:
Team Dads
Floater Dads
Kitchen Staff
Nurses/Doctors
Check-in/Check-out
Music Ministry
Photography
Young Adult Mentors
2022 High Adventure
Virtus et Veritas (V2) Ministries
June 5 to June 11
Ages: Young and adult men 19 and older

Location: Eagle Rock Loop (about 30 miles), Ouachita National Forest, Arkansas
Dates: Sunday, June 5th depart before or by 12 noon and return by Saturday, June 11th 10 AM (estimated)
Price: $600
Transportation provided/included
Mountain Bike Rental (1 day) included
Food / Meals Provided (except for lunch day of departure and meals during travel there and back)
Equipment: Bring your own (Backpack, sleeping gear, tent, cooking utensils and cookware).
If you require help with gear, please contact us.
"Camp Virtus et Veritas is the best thing going for vocations in the Archdiocese, in my humble opinion."

Father Taylor Leffler, V2 Chaplain
"Camp Virtus et Veritas is the best thing going for vocations in the Archdiocese, in my humble opinion."
Father Taylor Leffler, V2 Chaplain
"Ryan had the best experience at V2. It is all he talks about. When he sees the pictures that were posted on Facebook he talks about each event with absolute fondness.  He talked about the " sake of the sorrowful passion"  (Divine Mercy) and how everyone raised their arms like Jesus on the Cross during the "whole prayer!"  Ryan is not the best speaker because of speech and language issues . . . Thanks for the best spiritual encounter."
Mother of Camper
 "I was very impressed by the camp and how it was set up…Each day the campers and their leaders participated in Mass, the rosary, the Divine Mercy Chaplet, and adoration. They also had the opportunity to receive the Sacrament of Reconciliation…The campers also learned about other important topics like prayer and other sacraments like Holy Matrimony. The campers were encouraged to think about the vocation of priesthood and whether or not God might be calling them to the priesthood someday…The adults at the camp provided good examples of what it means to be a good Catholic. Lastly, young Catholic boys need to know how to grow in their faith and in grace. Camp Virtus et Veritas does a good job of helping them with all of these things."
V2 Adult Musician
Thank you to our sponsors